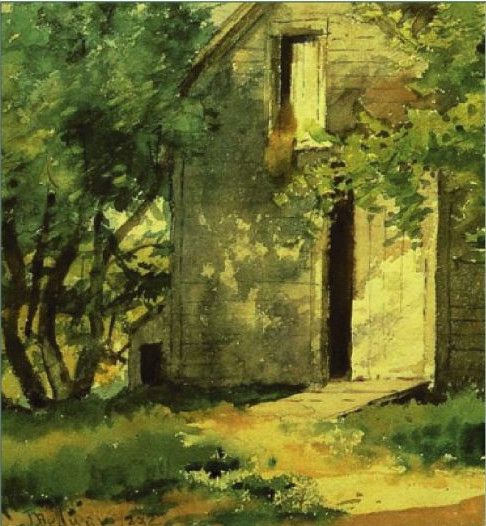 Some barns know how to kneel;

this one does, looking over shoulder,

sighing, whispering, I'm never sure

which in these bird-gray mornings.
Oh, all they tolerate: host armies,

creeping squadrons, dragooned

columns, gnawing at time, flighty

creatures busy as town Saturdays,
ceding fathoms to dark hungers.

Their warp and twist of timbers

silent as skulls, heady lintels

and cross braces straddling chest

being crushed, sills aching to cry,

all stand their serious doubts.

They cling at selves, members

of a most immediate family
waiting for a wake to happen,

or a song of reprieve at dusk,

heaving into morning's mirror

another night of soul survival.

It is why I love my old barn,

one like most others, falling down

slowly, taking pulse at oak wrist,

find its own bright heart of tree
cored grace in gallant crosspiece, joist,

perhaps in hoof-thinned grasping plank,

or, in summer's ever-high loft, dreams

cached away for awed awakenings,
odors barns have a right to keep.

Here, at pond-side, I look over

shoulder at a barn looking too,

back at slow, labored beginning,
feel crosscut vibrate, axes shiver

at hewing, two men's breath rising

in a column as if one lung works,

ritual of barn raising, cutting at air.