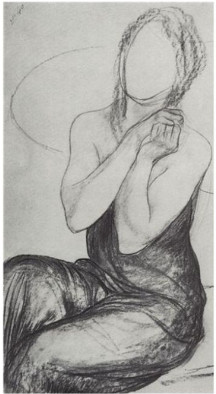 Bring a bound sheaf cut with your own hand

to the cloister's forest of stone

where yew wood used to stand.
Ten somber daws clamor over Pueche Blanc.

Nine bay calves pierce the herd.
Thrash the grain on the tiled floor where monks

once paced in silent prayer. Winnow with wicker,

then scatter a handful of seed.
Eight hoopoes bloom the linden.

Seven egrets fish the mill-race.
Next day, return, follow the ants.

They scale a carved column, up a story,

skirting the binding on Isaac's wrists.
Six fern fronds toss the wind.

Five Rollers spin the sky.
Around their roof-nest, re-gather what seed you find.

Then form your cake from wheat and water;

season with yarrow that grows by the mill.
Four hare harbor in tall grass.

Three kingfishers rattle the channel.
Bake in an oven fed with oak boughs.

Serve him the cake on a china plate,

without a word or smile.
A pair of vixens blaze the thicket.

One wild boar tangles in thorn.
Now at your word, your lover will rise,

eager as trout snapping at flies.
Dame heron strikes the fish.

Black-robed daws claim Pueche Blanc.


Note: Pueche Blanc is Occitan (Provencal) for "white hill".