Ravens and Robins
To read your free edition please click on our digital link


OR: Buy YOUR PRINT Edition HERE
The Sorrow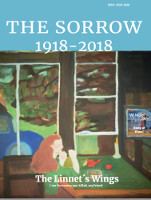 World War 1: POETS IN ACTION
Were the ancients like us?
Perhaps people are people and we share their problems and concerns. But suppose what is common for us were alien for them, their experience unfathomable to us? If they were different, our self-understanding could seem limited, maybe nonsensical. Studying the past could be unsettling, perhaps dangerous. Maybe the ancients have something to teach us, things beyond our common understanding. Otherwise, frankly, why bother?
Imagining Many Gods by Stephen Zelnick
The Shropshire poet, Wilfred Owen died
on the 4th November 1918 while attempting to lead his men across the Sambre canal at Ors in France. He died just one week before the Armistice of 11 November 1918. He was 25 years of age.

Born in Oswestry, he grew up in Shrewsbury, Shropshire and appears to have had an enjoyable childhood, exploring the local countryside and visiting local antiquities, the many abbeys and study relics at the ancient Roman ruins near Wroxeter. Sometime in 1913 he wrote Uriconium An Ode, one of two lyric poems (The Swift). Significantly, Uriconium was destroyed by war, a buried sin.
Off the Press this Year
| | |
| --- | --- |
| | CLICK ON THE COVER IMAGES for more shop information! The magazines are offered for sale in Amazon US, UK and EU Online shops, the links here are to their .com website! |